Description
General Description
The TS-520IEC stainless steel fixture is designed to be used in conditions where a wide beam of light (60 degree wide beam) is required to flood a large area. The TS-520IEC's outstanding durability, superior brightness and low maintenance design make them ideal to be used in the most demanding environmental conditions, and in solar powered applications because of its energy efficient design. The TS-520IEC comes standard as a bi-directional fixture, but may be configured to a uni-directional fixture (TS-521IEC).
The TS-520IEC is typically used in applications requiring flood lighting of wide areas such as parking lots, park areas, beach areas and in applications where a "dark sky, turtle friendly" type of lighting is required.
Why Our TS-520IEC Is Better
Outstanding Durability
Corrosion resistant stainless steel construction stands up to salt, chemicals, traffic wear and weather.
High static load rating (44,000 lb.) reduces likelihood of damage from heavy vehicles.
Superior Brightness and Energy Efficiency
Highbright LEDs produce a brightness level of over 600,000 candela per meter squared making them clearly visible in daytime and under the worst weather conditions.
Highbright 12 Volt LEDs consume only 4 watts/fixture making them ideal for energy efficient solar power applications.
Low Maintenance
Re-usable design reduces the cost, effort and time during resurfacing of the road.
Self-cleaning lens design reduces build-up of dirt and need for frequent cleaning.
Pressurized light cavity keeps moisture out and reduces the frequency of replacement.
Pre-focused optics eliminates the requirement of field adjustments.
Long life LEDs (Average rated life of 10 years) reduces the frequency of replacement.
---
Wildlife (Sea Turtle) Lighting Criteria
Our TS-520IEC fixture meets all the conditions for Wildlife Lighting:
Low profile fixture is mounted in pavement.
Unidirectional configuration shields wildlife areas from light.
LEDs have a wavelength of 595nm.
Dimming option can reduce any unnecessary lumens at night.
In order to meet the criteria for Wildlife Lighting, a fixture, lamp, or community lighting must be able to satisfy all three of the conditions below:
Keep it low:

Fixtures must be able to be mounted as low as possible and still be appropriate for the needed purpose.
Fixtures must be able to accept lamps that produce only the lumens necessary for the needed purpose.
Bulb must produce the lowest lumens necessary for the needed purpose.

Keep it shielded:

Fixture must meet or exceed full cut-off.
Fixture must be able to shield bulb, lamp, or glowing lens from the beach, wildlife corridor, or protected natural area when mounted appropriately.
Bulb must be able to be used in an approved fixture.

Keep it long:

Fixture must accept long wavelength bulbs.
Bulb must produce only long wavelength light (560nm or longer).
(Source: Florida Fish and Wildlife Conservation Commission)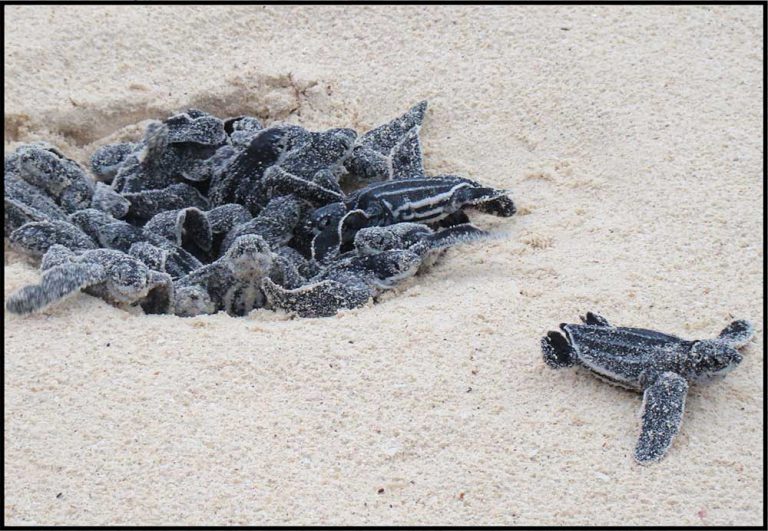 Artificial lighting on marine turtle nesting beaches disrupts the ability of hatchlings to find the sea from their nest, an effect termed "hatchling disorientation."