Description
SafePace Cloud
Control your signs, access data and adjust settings from anywhere, anytime with remote access via SafePace Cloud
General Description
SafePace Cloud offers you the convenience to connect to and control your signs from any Internet connected device. With detailed reporting, customized alerts, and real-time data, you can see stats for each sign, change settings, check batteries and download data without spending time traveling to sign locations. SafePace Cloud is an investment in the performance and success of your SafePace speed signs.
Benefits
View real-time sign data
Access all sign stats from one location
Download detailed traffic data and reports
Set up customized alerts
Change settings and parameters
Cut down on workforce hours
Compatible with all SafePace signs
Features
Better Sign Management: Manage all your signs from one screen, accessing more granular data simply and quickly. One-click scheduling lets you update signs individually or simultaneously.
Data & Reporting: View at-a-glance updates, access real-time data, see data overview or details, and generate reports to analyze and improve your traffic management program.
Mapping: View all your signs from one screen using our interactive mapping tool. Zoom in on individual signs to access detailed stats and/or update settings.
Zero Footprint: No software install, no hardware required, access a wealth of intelligent traffic data from anywhere, anytime.
Alerts: Set up automated alerts for speeding thresholds, low battery, or tampering. Receive updates via email or text.
Improved Efficiency: Improve workforce efficiency and optimize resources by reducing travel time required for sign management.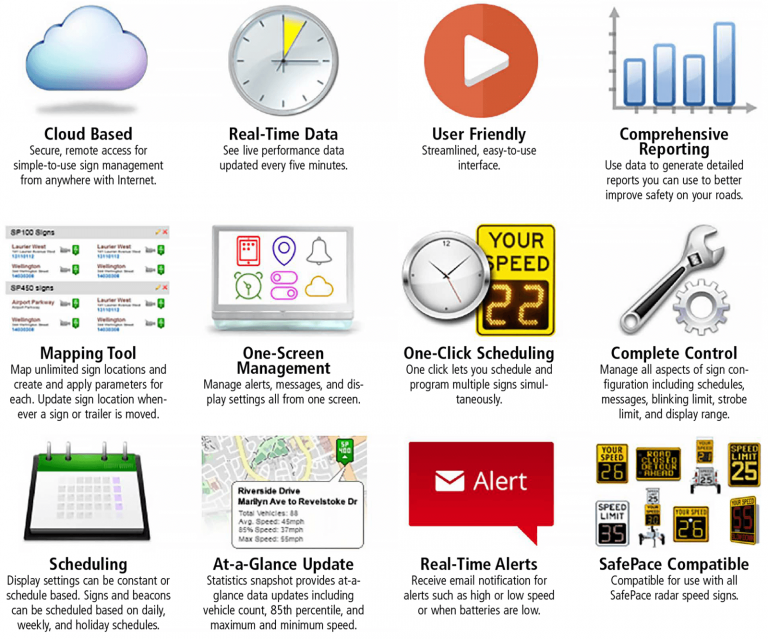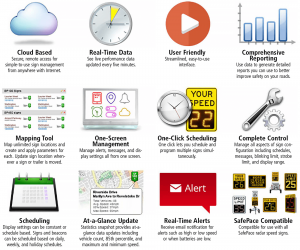 ---
SafePace Data Collection Specifications
Management and Programming
When using either software package, you will be able to set sign parameters, such as:
Speed display range
Digit and strobe flashing threshold speeds
Detection range
Operation mode
Settings can either be saved to files and given to other technicians, or used to program other SafePace signs of similar model.
The SafePace Pro software offers some additional advanced features that allow you to:
Program radar sign schedules
Adjust digit and strobe flashing frequencies
View real-time readings (when connected to the sign)
View sign location(s) via an integrated mapping tool
Customize messages, graphics, and animations to correlate to driver behaviors, road conditions, and notable events (available only with variable messaging signs).
Data Collection and Reporting
"Traffic Statistics at Your Fingertips"
Both software packages include an optional Data Collection feature offering extensive and highly precise traffic information. Utilizing the most accurate doppler radar technology available in the market today, traffic data is stored and collected for later analysis:
Total and average vehicle counts
Minimum and maximum speeds
Average and 85th percentile speeds
Total percentage of speed violations
Collected data can be retrieved and downloaded from the sign and viewed in hourly, daily, and weekly increments. Summary reports, weekly reports, and period comparison reports are but just a few of the reports and charts available. All reports can be printed directly or exported in a variety of formats to suit your needs. SafePace Pro offers advanced statics and reporting which allows you to further customize reports and charts to view more granular traffic data. There is no limit on the amount of data collected, and the data is stored indefinitely.
System Requirements
Windows 7, 8, or 10
1024 x 600 display
Bluetooth
25 MB disk space