Solar LED road stud safety lighting systems
Solar powered road studs are effective way to enhance safety lighting on roads and pathways. These waterproof fixtures can be installed as caution lighting on the roadway, or as safety lighting along bike paths. The low profile design makes them safe for cyclists, walkers or joggers. Improving lighting conditions enhances safety, and systems can be setup as warning lights at trial crossings or along bike lanes that activate when cyclists approach. When it comes to unsafe bike lanes, in-road lights placed along a bike path can be triggered to flash when cyclists are near. The flashing lights help to alert drivers of the presence of cyclists and encourage caution.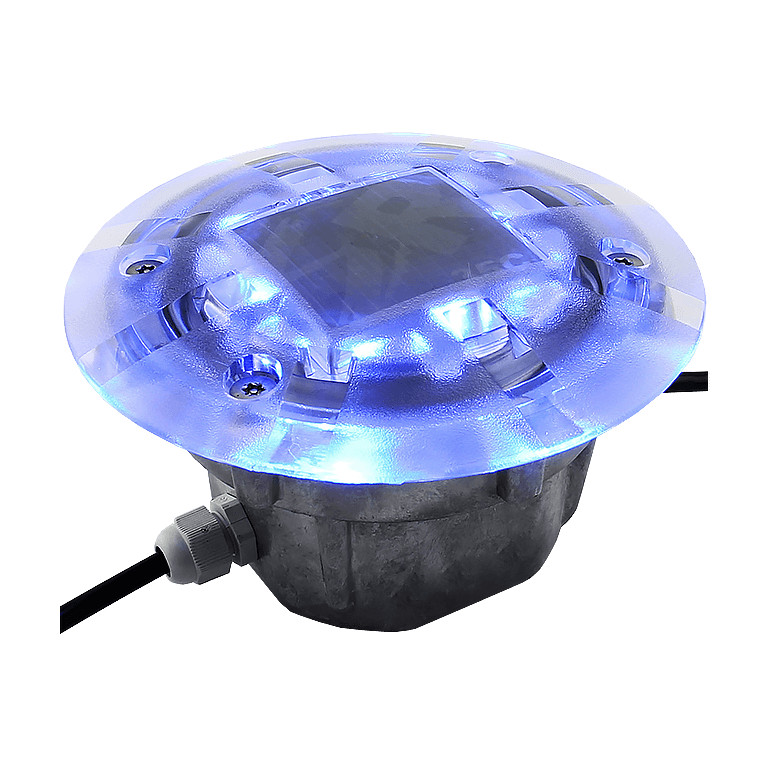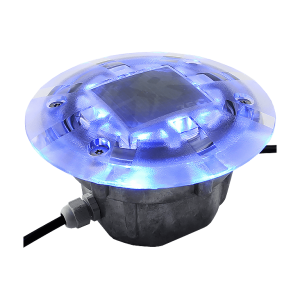 System Features
Solar powered
Bicycle friendly
Low profile design
360° lighting
Low maintenance
100% waterproof
Get a Custom System
Ask about the full range of solutions available for your situation.
Walking and bicycle path lighting system components
Our team can help customize a system setup for your specific application. Select a fixture model, determine your power options, and more. Customize your system now.
Easy Installation
Easy solar power or hardwired installation
Low Maintenance
Durable, low maintenance design
Customizable
Widest range of models and features
Thousands of Traffic Safety Corporation lighting installations are making streets safer for pedestrians across the U.S.
View Gallery
Download engineering resources
Engineers, specify our crosswalk lighting systems on your Vision Zero or Safe Routes to School traffic calming program.
How to Specify
Get the exact language needed to specify Traffic Safety Corporation products on your next project.
View Specs
Installation Guides
Download our installation guides for clear and easy instructions for system installation.
See Guides
Drawings & Layouts
View our reference library to download product drawings and sample layout documents.
View Library
Get the longest warranty in the industry
We offer a 5-Year Warranty - the longest in the industry - on inpavement crosswalk warning systems. For over 20 years, we've been building high quality, certified traffic products.
Walking & Bicycle Path Lighting Systems - FAQ
How many LED road studs will I need?
Each installation can be setup specifically for your situation. Our team is ready to help you configure the safety lighting system that meets your requirements.
Are these solar powered LEDs or can I get them in AC power?
These intelligent road studs are available in solar power or AC power.
Are these intelligent road studs?
Yes, these solar powered LED lights are also known as intelligent road studs. They use microcontroller technology.
Are these road studs easy to install?
Yes. We provide complete and clear instructions for a quick install.
Are they low profile fixtures?
Yes, they barely stand .5″ above the roadway, making them ideal for areas with high foot traffic or where bicycles are used.
Is the solar power unit effective?
Each light fixture contains a high performance photovoltaic solar module and an internal prismatic system for high intensity light output.
Are there color options for the LEDs?
There are 5 colors of LEDs: white, red, yellow, green, and blue.
Are fixtures waterproof?
Yes. These intelligent solar LED road studs are completely waterproof.
Are these solar road studs durable?
Yes, fixtures are constructed from aluminum and polycarbonate and can withstand 18 tons.
Are there different modes of operation?
Yes. There are two modes – always on or flashing.
Is there a minimum quantity required for my order?
No, there's no minimum or maximum quantity required for your order. Custom systems can range in quantity of fixtures required.
Can these lights be setup as a warning system?
Yes. These can be added to the roadway and setup to be triggered when cyclists or joggers approach.
Can these be used to enhance pathway safety lighting?
Beyond use as caution lighting, these road studs can enhance environmental safety with 360 degree, multidirectional lighting.
Are road studs easy to maintain?
Yes. Fixtures were designed for low maintenance to keep operating costs minimal.