Solar powered radar signs flash speeds digitally
Radar speed signs (also called radar signs, speed signs, or digital speed limit signs or "Your Speed" signs) are an effective and affordable solution for slowing cars down. Radar signs flash speeds digitally, displaying the speed of approaching vehicles in realtime. Flashing speed signs remind drivers of posted speed limits. Studies show radar speed signs produce 10-20% reductions in average roadway speeds, and long-term increases in compliance with speed limits.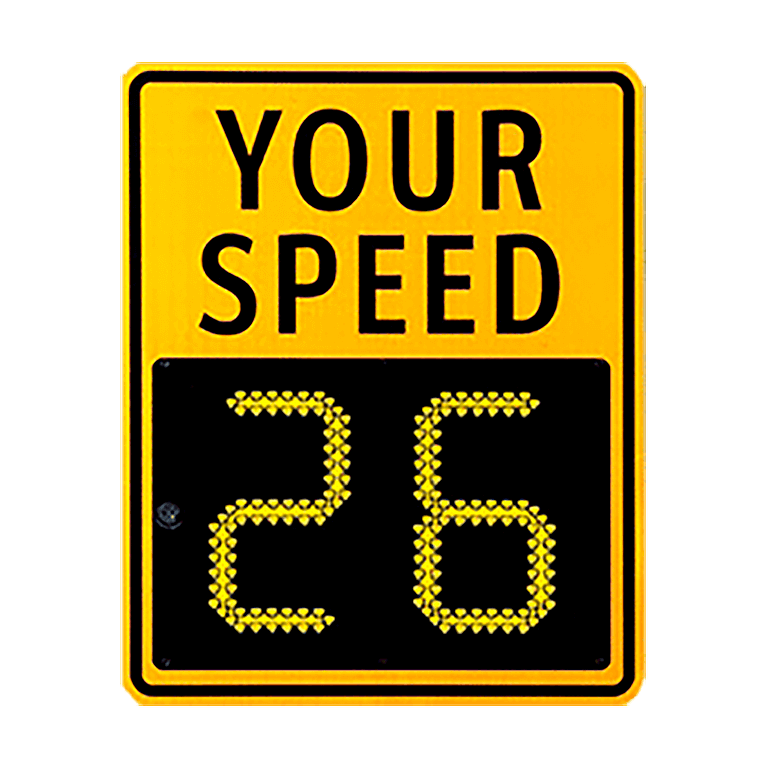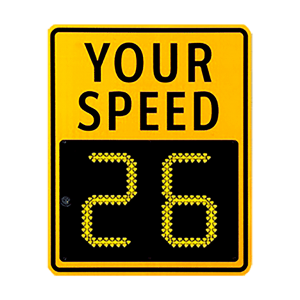 Radar sign features
Solar powered or AC hardwired
Easy setup and installation
Speed capping to prevent misuse
Integrated warning strobe
Portable, lightweight
Impact resistant
Get a Custom System
Ask about the full range of solutions available for your situation.
Radar sign solutions
Our team can help you select the best radar sign for your situation. Compare radar speed limit sign models, features, and options. Request pricing now.
2 Year Warranty
2 years construction warranty on radar signs.
Easy Installation
Easy solar power or hardwired installation.
Simple Maintenance
Lightweight, portable, easy to maintain.
Thousands of radar speed signs from Traffic Safety Corporation are making streets safer across the U.S.
View Gallery
Download engineering resources
Engineers, specify our crosswalk lighting systems on your Vision Zero or Safe Routes to School traffic calming program.
How to Specify
Get the exact language needed to specify Traffic Safety Corporation products on your next project.
View Specs
Installation Guides
Download our installation guides for clear and easy instructions for system installation.
See Guides
Drawings & Layouts
View our reference library to download product drawings and sample layout documents.
View Library
Get the longest warranty in the industry
We offer a 5-Year Warranty - the longest in the industry - on inpavement crosswalk warning systems. For over 20 years, we've been building high quality, certified traffic products.
Are your radar speed signs available in a solar powered option?
Yes, the complete line of radar speed indicator signs from Traffic Safety Corporation are available in a solar powered option.
What are the lowest speeds your radar signs register?
TSC radar signs can indicate speeds as low as 4 – 5 MPH and up to 99 MPH.
What kind of poles are required for mounting a digital speed sign?
Any typical round or square shaped pole will work. We offer a 4.5″ round aluminum pole and 2″x2″ Telespar, square pole. Please request poles in you need them included in your quote. Please note that a U-channel shaped sign pole won't work. U-channel type poles will not support the weight of a radar sign, and are likely to bend due to the added weight.
Do radar speed signs include the required mounting hardware? 
Banding strips are included.  We do offer a Universal Mounting Bracket.
Does the radar speed limit sign include software?
The data storage feature is not included. Access to the cloud is not included. If you'd like that added, simply let us know and we'll add those features to your quote. Learn more about the cloud software packages available.
What are typical lead times for radar speed limit sign?
Typical lead times for signs are 5 weeks, generally. Lead times can vary depending on if the signs are custom, or the quantity of radar signs in your order.
Are solar panels and batteries included with radar speed indicator signs?
Yes, when you order a solar powered speed sign, the solar panel and the battery are both included.
Is there a discount available if I buy more than one sign?
We do not offer a quantity discount on radar signs at this time.
Do you need any special permissions to install a radar speed limit sign?
Most people install radar signs with no issues at all. If you'd like to be certain, just check with your local Department of Transportation or city officials. If you'd like to use an optional sign dolly, or sign trailer, those are also available.