Description
General Description
Improve emergency crew response time by giving advanced warning to drivers that emergency vehicles are departing the fire station. The Emergency Vehicle Warning System consists of two 12″ LED flashing yellow beacons and a diamond-shaped flashing or unlighted traffic sign. The system can be activated by the optical emitters used by most fire department emergency vehicles to control traffic signals en route to an accident. Additional activation methods include a wireless keyfob transmitter, push-button transmitter, or in-station transmitter.
Features
MUTCD Compliant.
Flash rate per MUTCD guidelines.
Two 12″ LED yellow pixelated beacons with aluminum housings, visors and back plates.
Flashing or unlighted traffic sign.
LED life expectancy over 100,000 hours.
Solar or AC powered.
Day and night visibility.
Multiple activation options.
Fast, easy installation.
Keyed on/off switch.
Easy battery replacement in field.
Multiple mounting hardware options.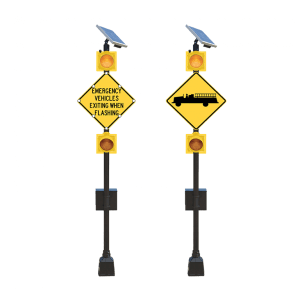 TS50-S12DB: Shown with lighted traffic sign (left)
TS50-S12DB: Shown with unlighted traffic sign (right)


---