Description
General Description
Our BullDog III push-button stations are designed for use at a pedestrian crosswalk to activate warning light systems. All stations include an instructional sign plate and an ADA-compliant push-button.
BullDog III Push-Button Station
The BullDog III sets a higher standard for ADA-compliant pedestrian crossing push-buttons. The BullDog III is not only accessible, but it's also designed for very low maintenance and built on tested and proven technology. This button is highly vandal resistant with essentially no moving parts. It is pressure activated, but can withstand an impact from a baseball bat or hammer. When the switch activates, you will hear a beep and the LED will flash. The BullDog III Push-Button Station includes an instructional sign, a push-button for activating the flashing lights, and a push-button frame.
BullDog III Features
BullDog III Push-Button Station includes: an instructional sign, a push-button, and push-button frame.
Superior die-cast aluminum, powder-coated body – independently lab tested to NEMA 250 (6P) specifications.
316 Marine grade stainless steel button cap far exceeds the durability of competing products.
2″ ADA compliant button withstands severe impact from baseball bats, skate boards, hockey sticks, etc.
Button places a call with less than two pounds of force.
Button requires push action to activate – cannot be jammed or stuck on.
Wide operating temperature range of -30° to +165°F (-34° to +74°C).
Ultra-durable, long-life – tested to 300 million operations.
Wind, rain, hail, and vibration have no negative effects.
Transient protection meets and exceeds NEMA specifications – independently lab tested and certified.
Piezo-driven solid state switch sounds simultaneously with push-button.
Provides two-tone audible confirmation as well as visual LED confirmation.
Available in black or yellow (contact TSC for other colors).
BullDog III push-buttons use power from existing switch wires.
5-year warranty.
---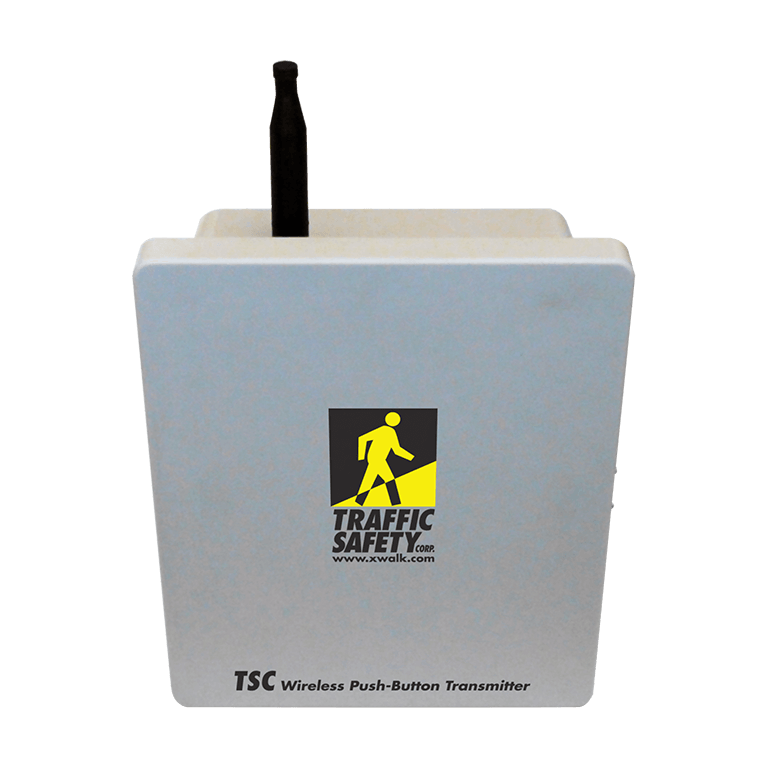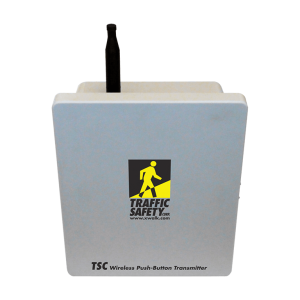 Wireless Push-Button Transmitter
MUTCD compliant Push-Buttons communicate securely to devices at distances of up to 2,640 feet.
Transmitter Specifications
Radio:
Operating Frequency: 2.4 GHz ISM Band, License Free, FCC Part 15 Compliant and Certified
Range: Communicates with Devices located up to 2,640′ Direct Line of Sight
Technology: RFDANT – Transceiver Environmentally Sealed and Industrial Ruggedized
Patented Protocol: RFDP 8 – High Immunity to RF Noise and WIFI Signal Interference
Security: Transmitter Paired to Receivers using a Unique 32-Bit Electronic Serial Number
Enclosure:
Dimensions: 12″ x 10″ x 6″ (Solar/Battery Model), 12″ x 8″ x 6″ (AC Model)
Type: NEMA 4X with Integrated Lock, Pole Mounting Kit Option Available
Material: Fiberglass Enclosure and Back Panel Construction
Installation: Pole Installation
System:
Power Source: 12 VDC Solar, 110 VAC Model Available
Operating Temperature Range: -40° to +185°F (-40° to +85°C)
Lightning Surge Protection: High Energy Surge and Transient Protection
Autonomy: 5 Days
Warranty: 5-Year Warranty, Battery Excluded.